Alon Berman | FOUNDER & CEO
Once you make the change of giving real value to the world without asking for anything in return, victory shall be yours!
We at Berman Media believe that constant and continuous communication with the customer is a prerequisite for maintaining a business in the age of social networks and digital. You have at your disposal all the tools to attract the customers over to you, listen to them, answer their questions, solve their problems and be there to help with anything your products or services can contribute to them.
And how do you maintain that communication? Using two cornerstones without which you cannot maintain a business in digital, and which do not work one without the other – Content and traffic. Traffic is the action that brings those browsing the Internet, who are also the potential customers, to you. This can be done through a previous interest of yours in them, a comment, message or any other action that will draw their attention and make them want to hear more from you. We believe that organic marketing is the truest form to increase the number of followers, and ultimately the number of customers.
Through great content that speaks to your customers and makes them stay with you in particular, to see what you have to offer, and then come back to see and hear more.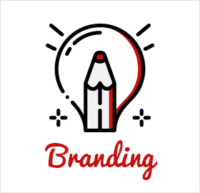 THE BRANDING PACKAGE
One-time service for businesses starting their activities over social networks or across digital in general from scratch but are unable to take on the monthly operation package. This package will allow them to "facelift" their business across social networks for a one-time cost.